The company Olaf Johannsen was founded in 1964 as a private company. Changed after 10 years to Olaf Johannsen ApS
The production was partly electronics and partly development and manufactoring of cable accessories. From 1983, the company's primary business has been the production of low voltage cable utilities.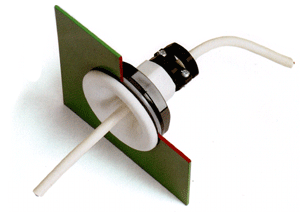 1970. Olaf Johannsen ApS manufactures electronic equipment in Sønderborg. Among other things he manufactors a liquid level detector, for use when filling up liquid tanks. For instance oil or petrol tanks.
1972. Development of a Carbondioxide metre, Carbonoxide/Oxide indicator (Exhaust analyser). The production is moved to new facilities.
1982. Olaf Johannsen ApS starts importing:



Eliwell agency, Eliwell thermostats and probes.


The thermostats imported are mainly for use in
measure and regulating equipment for industrial cooling- and heating
equipment. The thermostats are with a digital display well suited for panel
mounting. Besides the thermostats also electronic thermometers as well as
remote- and digital thermometers are imported.
1991. The company developes a new and improved Cord Grip Bush, which
is safer than other Cord Grip Bushes on the market.


The Cord Grip Bush has a unique bridge, which has been designed so it can be used upside down, allowing numerous possible cable diameters to be used.


1992. More Cord Grip Bushes in different sizes are manufactured.
1996. The Flush-mounted Cable Gland is developed and put into production.
1999. The Cable Joint RE325 is developed and put into production.
2000. Olaf Johannsen ApS is now also selling onion sealing rings which are used if
a connection between a piece of electronic equipment and a cable needs to be
waterproof.
2001. Developent and manufacturing of Cord Grip Bushes with a metric thread
M-thread.
2003. Olaf Johannsen ApS goes online.
2006. New version of the Cable Joint RE325, IP68 5 bar for flexible cables. IP67 for rigid cables.